Over the years my lessons learned from the Lord have become creative in design when note taking. I used to just write but now I write, draw and use color. I like that the Lord has moved me to be more visual in my lessons. Here is how I creatively study the Word.
1. Drawing pad/Unlined notebook. An unlined notebook works well. A drawing pad would work, too. Or just plain paper in a binder. You just need space to work with.
2.  Colored Pens. I use these for words I want to highlight in writing scripture. I write the rest in pencil or black ink.
3. Colored Pencils. I use these to highlight points or to color in spaces. I also use them to draw pictures that help me visualize what I am learning.
4. Word Pictures. As I am working through a passage in the Bible, I think about how I can add more to depth to the Word by adding visuals. I love seeing how these comes together as I begin to study the Word. God's Word just becomes more alive and tangible.
I've taken a photo of one of my study sheets to show you what I do. (Click on it to enlarge it if you like.) I am working through a study of Psalms with a group of ladies online this summer and this a page from my Psalm 16  study.
 I hope you will try this way of studying God's Word. You don't have to be a great artist just have a love for the Scriptures. It can be enlightening and rewarding. (My note: This does take time to do so be mindful of that. Maybe do just one scripture at a time.) now onto sharing your favorite posts!
Monday's Musings Purpose: I would LOVE! to have you share encouragement about being a child of God, being a wife, mothering, homemaking, homeschooling, recipes, etc. Truly anything that would encourage another is acceptable. (I reserve the right to remove anything I deem unacceptable. Keep in mind this is a Christian blog.) Please link directly to the post you're sharing. Be sure to link back here by using a text link or the logo below. This link up party stays open until Wednesday evening and I ask you to share the love by visiting another blog and encouraging them. Oh, and sometimes I share your posts on Pinterest, Twitter and/or Facebook because I desire for others to be blessed as I was. Thank you for stopping by and linking up. Now, let's get to sharing. Link following this post. Grab my button and place on your blog so others can join in.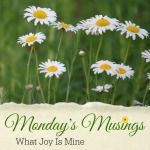 Get connected!! 
Stop by on Mondays to link up at Monday's Musings.
This post might contain affiliates. Read our disclosure. 
**If any of my photos anywhere on my blog catch your eye, please email me for permission to use them in any way. I appreciate your cooperation in helping my photography stay protected and properly credited. Thank you.
  Shared at
Mom's the Word 
,
Splashin' Glory
,
WholeHeartedHome