Do you believe in miracles? A miracle is defined as "a deviation from the known laws; a supernatural event." (Webster's Dictionary) Jesus performed several miracles during his ministry. All of which were done to draw eyes to see a mighty God. Each miracle was impressive but the reason behind the miracle was most important as well. There was a teaching behind each one.
With Lazarus, it was Martha's faith. (John 11:1-44) When Jesus turned water into wine, it was to demonstrate his glory. (John 2:1-11) When He healed the nobleman's son, it was to change the heart of the nobleman. (John 4:46-54) When Jesus fed the five thousand, it was to show how He can satisfy the hunger of man's need. (Matthew 14:14-21) Miracles served to show us that Jesus is who He says He is and that we are in need of him.
Do miracles still happen today? I believe so. I believe they happen daily. The birth of a baby, a new marriage, a new job, someone fills a need, a healing takes place, a relationship is restored, we find the strength to survive a trial, and the baby sleeps through the night, finally. God has not changed who He is so why would miracles in the lives of His children end? He is the same today, tomorrow and the days to come. (Hebrews 13:8) He still loves us and still desires for us to grow…for our good and unto His glory. "Worthy are you, our Lord and God, to receive glory and honor and power, for you created all things, and by your will they existed and were created." (Revelation 4:11) This includes all those miracles written in the Word and still happening today.
So, last week I put out a call for guest bloggers and I was so blessed by all who responded. I will be I touch with each of you this week. There are still two spots available if you are interested in guest posting here at WJIM. Contact me HERE.
Monday's Musings Purpose: I would LOVE! to have you share encouragement about being a child of God, being a wife, mothering, homemaking, homeschooling, recipes, etc. Truly anything that would encourage another is acceptable. (I reserve the right to remove anything I deem unacceptable. Keep in mind this is a Christian blog.) Please link directly to the post you're sharing. Be sure to link back here by using a text link or the logo below. This link up party stays open until Wednesday evening and I ask you to share the love by visiting another blog and encouraging them. Oh, and sometimes I share your posts on Pinterest, Twitter and/or Facebook because I desire for others to be blessed as I was. Thank you for stopping by and linking up. Now, let's get to sharing. Link following this post. Grab my button and place on your blog so others can join in.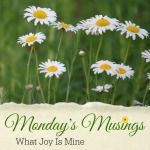 Get connected!! 
Stop by on Mondays to link up at Monday's Musings.
This post might contain affiliates. Read our disclosure.