Okay…so I really enjoy photography. I also enjoy Pinterest. Put the two together and I have a swell place to store all my DSLR photography cheat sheets. Whether you're confident behind the camera or not, these are great to have on hand and refer to when needed. Here you go:
DSLR Cheat Sheet
covering shutter speed, ISO, Aperture, Composition, Exposure
Photography Cheat Sheets
has a variety of cheat sheets covering rule of thirds, manuel photography, understanding f-stops, composition and more. Definitely check this site out. 
Learning About B
lur
helps you understand how to control blur in your shots by using ISO, Aperture and Shutter Speed. 
How to Take Photos in Low Light
.
Stopping Motion with Shutter Speeds
helps you know how to capture things in motion.
Making Sense of f-stops. Need to know this. 
How to Use Your Camera Basics.
Good for beginners and novice alike.
Learning shutter speed, focus length and depth of field.
Shutter Speed:
A visual reference.
How to Hold Your DSLR Camera
There you go. There are printable sheets at each site. Print them, read them, study them then practice. You learn by getting out there and putting into action what you just read. I invite you to check out my photography board for lots more good reads on photography to help make you a better photographer. Now onto the link up. 

Monday's Musings Purpose: I would LOVE! to have you share encouragement about being a child of God, being a wife, mothering, homemaking, homeschooling, recipes, etc. Truly anything that would encourage another is acceptable. (I reserve the right to remove anything I deem unacceptable. Keep in mind this is a Christian blog.) Please link directly to the post you're sharing. Be sure to link back here by using a text link or the logo below. This link up party stays open until Wednesday evening and I ask you to share the love by visiting another blog and encouraging them. Oh, and sometimes I share your posts on Pinterest, Twitter and/or Facebook because I desire for others to be blessed as I was. Thank you for stopping by and linking up. Now, let's get to sharing. Link following this post. Grab my button and place on your blog so others can join in.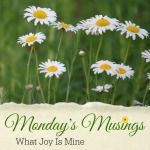 Shared at
Mom's the Word
,
A Wise Woman Builds Her Home
,
We Are That Family
,
A Little R & R
,
Mom's Morning Coffee
Photo Source