I'm back and looking forward to sharing great stuff here again. And what better way to start it all off than with a giveaway!!! I am so excited to share with you all a really awesome daily planner. I started using this planner this month and let me tell you…it works so well. In more detail, the Daily Planner has all I need to organize my family's schedule, my daily and monthly tasks and more.
Let me begin with how well it's laid out. It begins with the year at a glance followed with a "dates to remember" page. That's where I mark birthdays and anniversaries. I like this in a planner. The Homemaker's Daily Planner then moves onto the monthly and weekly pages. The month section runs from December of the year ending to the January of the following year. For instance, December 2013 – January 2015. This is so helpful for me because of the carry over factor. Plus, I love the full page layout that shows the whole month at a glance.
Next, there is the weekly section. Each full layout shows the entire week I'm on so I can write down my daily schedule. There is a task list area at the beginning of each week (for duties I want done that week) and a place to write down our menu plans for each day. Being a task list gal, I love that there is also a separate task section following the weekly pages in the Daily Planner. The pages are untitled so I can make them work for my agenda. I used mine to write down my September tasks for around my home. However, you can use them for seasonal tasks, homeschooling ideas or other special lists you want to accomplish.
Now one of my favorite sections of this planner is the projects and events pages. I will be using this page for our upcoming cookie party. Again they are blank so you can make them work for you. The last two sections cover contact information you need on hand temporarily and perforated shopping lists for those grocery runs in the week.
The Homemaker's Daily Planner is such a wonderful tool for keeping your life organized. It is also beautifully made with words of encouragement included before each section. Plus, the size of it is perfect enough to fit inside my purse so I can have it on hand wherever I go.
Today, Sue Hooley, the creator of this fabulous planner, is graciously giving away one 2015 Daily Planner to one winner. You can enter below. Also, until the end of  September she is also having an awesome BOGO offer for her 2014 and 2015 planners. Buy the 2015 Daily Planner and get the 2014 planner FREE! The benefit of this is you get a chance to use the 2014 Daily Planner to finish out the year and get comfortable with it so you're ready to put the 2015 planner into action in the new year. Enter the giveaway and/or just purchase the Daily Planner BOGO offer. If you win the giveaway (and you bought the BOGO offer), you can give the extra planner as gift to another sweet mom. Now onto the giveaway.
a Rafflecopter giveaway

Monday's Musings Purpose: I would LOVE! to have you share encouragement about being a child of God, being a wife, mothering, homemaking, homeschooling, recipes, etc. Truly anything that would encourage another is acceptable. (I reserve the right to remove anything I deem unacceptable. Keep in mind this is a Christian blog.) Please link directly to the post you're sharing. Be sure to link back here by using a text link or the logo below. This link up party stays open until Wednesday evening and I ask you to share the love by visiting another blog and encouraging them. Oh, and sometimes I share your posts on Pinterest, Twitter and/or Facebook because I desire for others to be blessed as I was. Thank you for stopping by and linking up. Now, let's get to sharing. Link following this post. Grab my button and place on your blog so others can join in.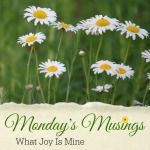 Get connected!! 
Stop by on Mondays to link up at Monday's Musings.
This post might contain affiliates. Read our disclosure. 
**If any of my photos anywhere on my blog catch your eye, please email me for permission to use them in any way. I appreciate your cooperation in helping my photography stay protected and properly credited. Thank you.
  Shared at
Strangers and Pilgrims On Earth
,
Mom's the Word