On this 9th installment of our 10 Days of Christmas Joy, we are looking at ways to make Christmas morning (and eve) special. Most families have their traditions for the eve of Christmas and Christmas morning. If you're still finding your way with that or want to add something new then today we will be sharing some ideas with you.
First, both days should have some kind of meal you serve for those days only. For instance, Christmas Eve could be a favorite family casserole or soup/salad combo and Christmas Day would have ham or roast with all the fixings. Maybe its a Christmas morning meal that is made special. A baked french toast dish, breakfast quiche or sweet rolls you make the night before and throw in the oven before everyone wakes up. Imagine the fun of waking up to that sweet aroma before beginning the day's agenda. Food always has a way of drumming up favorite times in our life. So, decided on your menu and have fun with creating a memory for your family
Besides a meal to make Christmas morning/eve special, there's gift opening. Some families open gifts on Christmas Eve, some do it on Christmas Morning. Some may only open one gift on Christmas Eve and the rest Christmas morning. Some may not do gifts at all and only do stockings. In our family, on Christmas Eve, we always have a wrapping paper fight while opening gifts with my husband's side of the family. I know, silly, but oh so much fun. How about putting on Christmas music while opening gifts? However, it works for you, decide and stick with it. By deciding on this early on in your family, everyone knows what to expect year after year.
Other traditions for Christmas eve/morning could be reading of a favorite book on either days, doing a family devotional, singing favorite Christmas songs, reading from the Bible about Jesus' birth, calling family or friends who live far away (nowadays we can even Skype!), playing games, taking a meal to a family in need, taking time to pray for the lost and others' needs, baking cookies, attending church or watching a favorite Christmas movie to name a few. Create the celebration you desire for Christmas eve and Christmas morning and plan on it each year.
Creating traditions that make Christmas eve/morning special will have a lasting impact on your family. The memories they will hold onto will always bring them back to these days of being with their family as they celebrated the birth of the Savior. So, take the time and be intentional to make Christmas eve/morning special for your family. Write down what you did and stick with it.
Tomorrow will mark our 10th day of 10 days of Christmas Joy and that means it will be giveaway time. Remember I told you I had a sweet giveaway for you all to say "thank you" for being faithful readers here at WJIM? I am blessed by you and so glad you visit often. So, don't forget to stop by tomorrow and see what I have for you. The giveaway will be open until Thursday and a winner announced on Friday. Now onto our link up! Again we were blessed with over 100 posts shared last week!! Fabulous!
Monday's Musings Purpose: I would LOVE! to have you share encouragement about being a child of God, being a wife, mothering, homemaking, homeschooling, recipes, etc. Truly anything that would encourage another is acceptable. (I reserve the right to remove anything I deem unacceptable. Keep in mind this is a Christian blog.) Please link directly to the post you're sharing. Be sure to link back here by using a text link or the logo below. This link up party stays open until Wednesday evening and I invite you to share the love by visiting another blog and encouraging them. Oh, and sometimes I share your posts on Pinterest, Twitter and/or Facebook because I desire for others to be blessed as I was. Thank you for stopping by and linking up. Now, let's get to sharing. Link following this post. Grab my button and place on your blog so others can join in.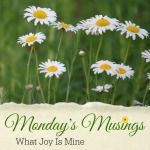 Shared at Mom's the Word, Strangers & Pilgrims On Earth, Time Warp Wife