Winter is one of my favorite seasons. I like the cooler temps, snow and the quiet it brings. I've always thought of winter as a time of rest and renewal spiritually speaking. A time to reflect on where I am in my walk, what I need to work on and what I have gained in the year past. It's always good evaluate your faith walk. "Examine yourselves, to see whether you are in the faith." (2 Corinthians 13:5) Ask the Lord to help you in the areas you need growth in. Maybe that's memorizing scripture or having a more set time to meet with Him or putting into practice what you're learning or developing a deeper prayer life. Also, its a good time to thank Him and praise Him for how much you have grown to date. I know we are all works in progress but God is faithful to teach us so our walk with Him is always moving forward even when we take a step backward.
The season of winter also signals a time of rest. Rest in Him. Maybe you've had a tough year last year and now you can finally breathe. Rest in Him. Maybe this year has already thrown you a challenge. Rest in Him. Just as nature goes to sleep at winter time, so I think we can learn from it to rest our souls in the One who comforts us and carries our burdens. Winter is a good time to seek Him for direction concerning your faith and to find respite in His arms. "And he said, 'My presence will go with you, and I will give you rest.' " (Exodus 33:14)
If winter is a difficult season for you, don't let it be. Choose to joyfully welcome it as a season of rest and renewal. Take advantage of this time and rest in the Lord.
So, what encouraging post do you have to share this week?
Monday's Musings Purpose: I would LOVE! to have you share encouragement about being a child of God, being a wife, mothering, homemaking, homeschooling, recipes, etc. Truly anything that would encourage another is acceptable. (I reserve the right to remove anything I deem unacceptable. Keep in mind this is a Christian blog.) Please link directly to the post you're sharing. Be sure to link back here by using a text link or the logo below. This link up party stays open until Wednesday evening and I invite you to share the love by visiting another blog and encouraging them. Oh, and sometimes I share your posts on Pinterest, Twitter and/or Facebook because I desire for others to be blessed as I was. Thank you for stopping by and linking up. Now, let's get to sharing. Link following this post. Grab my button and place on your blog so others can join in.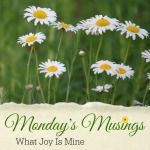 Get connected!! 
Stop by on Mondays to link up at Monday's Musings.
This post might contain affiliates. Read our disclosure. 
**Some photos on my blog are my own. If any of my photos anywhere on my blog catch your eye, please email me for permission to use them in any way. I appreciate your cooperation in helping my photography stay protected and properly credited. Thank you. 
Shared at WholeHearted Home
photo credit: joe holmes via photopin cc (Words added are mine)                                                                                               Quote by John Steinbeck, Travels with Charley: In Search of America