This week I had lunch with a dear friend. We are in the same season of life. It was a blessing not only to visit but to feel comfortable in sharing what we are going through these days. It's not anything major but for both of us, it's taking us on a journey we were not ready for. Yet to know we are not alone in our journey is a precious reassurance. Reminds me of the verse in Ecclesiastes, chapter 4, "Two are better than one, because they have a good reward for their toil. For if they fall, one will lift up his fellow. But woe to him who is alone when he falls and has not another to lift him up!" 
The Lord is so good to give us friends who will walk through life with us. I am ever so grateful for the friends I have in my life. Truly. Be that as it may, I am privy to an even more wonderful relationship that never, ever fails me.
When life gets challenging, the Lord never leaves us. When we hit lows, He is ever present. Our "times are in His hands" it says in Psalm 31, verse 15. If our times are in His hands, we can believe He will help us through whatever we are experiencing. Discouragement, sadness, and any other negative emotion that we might allow to encompass us during any season of life, He removes because He is right there with us. "Where shall I go from your Spirit? Or where shall I flee from your presence?" (Psalm 139:7) In addition, all of our sweet precious moments of joy are in His hands as well. Those times that make us smile and rejoice, He orchestrates.
All events that concern us, and the timing of them, belong to Him. They are at God's disposal. Matthew Henry, in his commentary on Psalm 31, states that "David didn't prescribe to God, he subscribed to Him." In other words, he agreed with the Lord and accepted God's design for his life. All of it.
See, we are never alone no matter where we are in life. Our God is a faithful presence. And we can (I will!) rejoice in that! "You make known to me the path of life; in your presence there is fullness of joy; at your right hand are pleasures forevermore." (Psalm 16:11)
UPDATE: Last week I was not able to put the linky up. I had an injury to my eye and was unable to handle staring at the computer screen or bright lights in general. I am doing much better and praising the Lord for healing.
NOTE: I have had the pleasure of participating in The Enchanting Rose Tea Cup & Mug Exchange more than once. So, I am just passing on the information below in case it is something you'd love to do. I may even participate this time myself.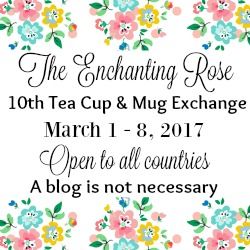 Now I am ready to read what you have to share. So glad you stopped by.
Monday's Musings Purpose:
To have others share encouragement about being a child of God, being a godly wife, motherhood, homemaking, homeschooling, healthy recipes, modest dress, etc. (I reserve the right to remove anything I deem unacceptable. Keep in mind this is a Christian blog.)
Monday's Musings Must Dos:
1. Please link directly to the post you're sharing. Be sure to link back here by using a text link or the logo in the side bar.
2. This link up party stays open until Wednesday evening. Know that sometimes I share your posts on Pinterest, Twitter and/or Facebook because I desire for our readers to be blessed.
3. It would be so awesome if you could encourage another by visiting their post and leaving a kind comment. Builds community, too. Thank you for visiting and linking up. Now, let's get to sharing. Link following this post. Grab my link button in the side bar and place on your blog so others know about our community and can join in.
Get connected!! 
Stop by on Mondays to link up at Monday's Musings.
This post might contain affiliates. Read our disclosure.
Thank you for supporting this site and our family.
**Some photos on my blog are my own labeled NCPhotography. If any of my photos anywhere on my blog catch your eye, please email me for permission to use them in any way. I appreciate your cooperation in helping my photography stay protected and properly credited. Thank you.